Welcome
The Eureka Express is a monthly publication that is put together and delivered by a group of local volunteers in the friendly country district of Eureka, in the Waikato region of New Zealand.
It is funded by advertising and donations. Without the support of both advertisements and donations the Eureka Express would not continue to function. The Eureka Express committee thanks both the people who advertise and the generous folk who make donations. Readers please make sure that you let the advertisers know that you have found them through their advert in the Eureka Express so they know their money is well spent.
Click on image below to read the latest edition: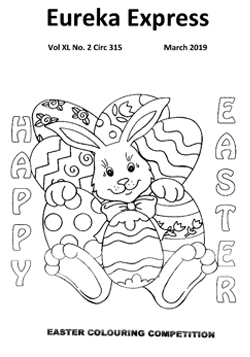 To read the latest Eureka Express simply click on the image at right. To read other editions, please click on the 'Eureka Express Editions' option in the main menu above, to go to the 2017 page. From there you can also choose earlier years, back as far as 2010.
Advertising
If you wish to place an advert in the Eureka Express, please contact the editor Gail Mayall :
Email: editor@eurekaexpress.co.nz
Phone: (07) 824 1758
Mobile: 021 211 3348
Donations
If you wish to make a donation this can be made either through the box at Eureka Motors or directly into the Eureka Express bank account:
Westpac Account 03-1559-0042660-00. In your bank reference please put the word 'donation'. Thank you.
Eureka Weather