Eureka History 1874 - 1984
Click on image below to read a digital version of the book. May take a couple of minutes to load (PDF 9MB).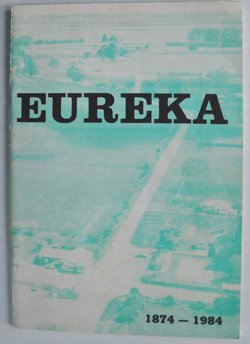 © 1985 Copyright The Eureka Express. All rights reserved.
An Introduction:
Some years ago the cover of the Eureka Express depicted the first of a series of sketches of some of the district's oldest homes which are still standing. From the research required to background these sketches, the idea grew that it was time a more complete history of Eureka was recorded.
However, the task proved far too time-consuming for the Eureka Express committee of busy wives and mothers.
We needed a full-time journalist and, fortunately, one became available for nearly six months through a Labour Department scheme. We gained the services of Meena David, a qualified and experienced journalist just back from an overseas trip, whose sterling efforts saw our book take shape before she returned to Auckland to resume her career in journalism.
Then there was a prolonged effort by part-time volunteers to complete the detail and prepare the text for publication. A debt of gratitude is owed to Chris Irvine for his countless hours of research into Eureka's titleholders and for his preparation of the accompanying maps to this section of the book.
Our sincere thanks for financial assistance must go to the Waikato Savings Bank, the Waikato County Council, the N.Z Lottery Board and the Eureka Cull Cow Committee.
The assembling of this history has involved interesting research and renewal of past contacts. We thank all those people who unstintingly gave Meena, and others, so much of their time. We apologise for any errors, omissions or discrepancies, and offer you this book in the hope that it will give you as much pleasure in the reading as we gained in the compilation.
Denise Irvine  & Gail Mayall
Eureka Express